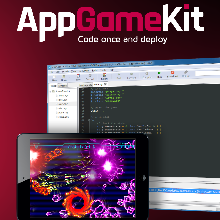 AppGameKit V2.0.22 Released!
Posted on
Welcome to a new version of AppGameKit. In this latest release, the main new feature we have added is support for UTF-8 character sets. This means AGK can now support all types of characters. We've also ensured your current projects work with ASCII characters sets for backwards compatibility.
It's now possible to load in True Type fonts and make your text displays look even more professional and appealing.
Here's a full run down of all the features and fixes in AppGameKit 2.0.22: